New Death Stranding Trailer Confirms Release Date
Hideo Kojima is finally ready to confuse us.
On May 29th, a strange and stunning new trailer for Hideo Kojima's new game Death Stranding was released. The trailer showed off a whopping 8 minutes of gameplay and story, finally giving us a better idea as to what the game will be like. The end of the video revealed that the game will be released on November 8th 2019, exclusively on PlayStation 4. Pre-Orders are now available, including a $200 collectors edition, that comes with some bizarre but admittedly cool items.
Baby, don't hurt me.
This will be Hideo Kojima's first project since leaving Konami in 2015, and his style is felt throughout the entire trailer. The trailer starts with the baffling "thumbs up baby" that shocked us in the first trailer, followed by an incredibly lifelike model of Mads Mikkelsen serenading us. This leads us into a conversation between a bedbound woman and our protagonist Sam, who seems to believe that America is beyond saving.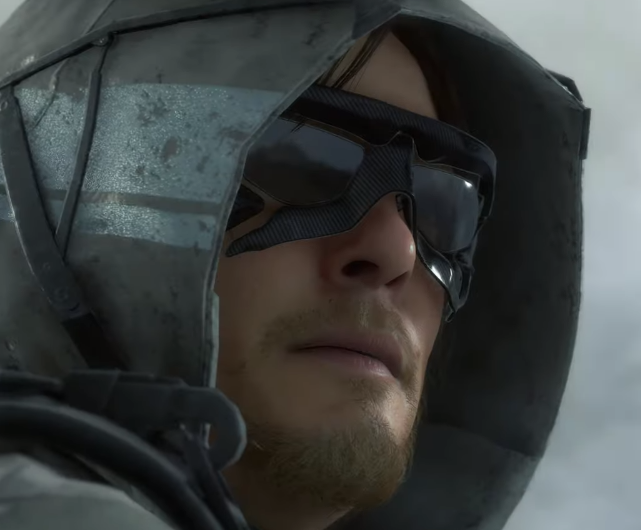 From here we get a look at the gameplay, which heavily features Sam exploring a broken and fractured world, filled with weird creatures, and even weirder people. We see him trudge through the wilderness, destroyed buildings, and snowy mountains, whilst using items that help him traverse these places, like a ladder, and climbing anchor. We also see Sam riding on a futuristic-looking motorbike, and in combat with some enemies. Later on, we get a look at some more action-packed gameplay, involving tanks, gunfights, and explosions.
From what we can tell, the story seems to involve a militant separatist group called Homo Demens, who goes from town to town murdering civilians. Whether the game will be about stopping this group, we don't know, but they seem to be heavily included. We also get a short and confusing look at what the babies in pods are doing in this game. They seem to allow Sam to sense something called BT's. What a BT is, and what babies in tanks have to do with them, are questions that will probably not be answered until the game is released.
The trailer also showed off the incredibly lifelike and impressive characters models, as well as the actors who are portraying them, such as Norman Reedus, Mads Mikkelsen, and Guillermo del Toro. Naturally, there were many strange and wondrous moments in the trailer, that gave us more questions than answers. Norman Reedus literally turning blue and putting a gun to his head was my personal favourite.
There are four different versions of Death Stranding that you can Pre-Purchase from the Play Station store. There's the Standard edition, which will come with the game, a dynamic theme, a PSN Avatar, and four in-game items. The special edition shall also include a steelbook, the digital soundtrack, and another in-game item. The Digital Deluxe edition gives the player the digital soundtrack, 10 PSN character avatars, and three extra in-game items. And the Collector's edition comes with all the bonuses previously mentioned, as well as a Luden's key ring, Bridge's cargo case, and a BB pod, with a fake baby inside.
…no, seriously.
GAMING NEWS & EXCLUSIVE GIVEAWAYS
DELIVERED STRAIGHT TO YOUR INBOX
In this article we'll be looking at the best medieval games to play in 2020, especially since we're spending more time than usual at home.